We provide professionally guided fishing trips for 4 species of Pacific salmon, Pacific halibut and trout. Our lodge provides "condo" style lodging with private bedrooms, a full kitchen, dining, and living room. You can prepare meals or dine out at over 3 dozen local restaurants. A color TV, dishwasher, regular and microwave ovens are some of the amenities present for your use. Bedrooms have a queen bed or a set of twin beds. The sofa in the living room has a hide-a-bed for extra members of your party. These units are non-smoking and laundry facilities are available in our lodge.
Lodging Photos
---
SALTWATER FISHING:
PACIFIC HALIBUT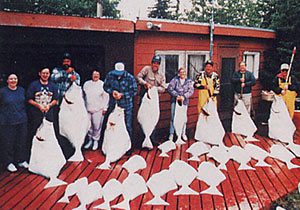 We use 28 to 32 foot boats for conducting our saltwater fishing charters. Our saltwater boats have cabins and restrooms for your comfort, and they are equipped with full electronics for your safety and fishing success.
We fish the Deep Creek area near Ninichik, Alaska, about 40 miles south of our headquarters in Soldotna. We avoid fishing on rough seas so we do lose some fishing days. However, many times you can reschedule your party to fish a freshwater stream that very day.
Our area of Cook Inlet is much closer to our fishing grounds than charter boats out of Homer or Seward. Our travel time by boat is usually 30 to 60 minutes, whereas other areas on the Kenai Peninsula average 2 to 3 hours travel time before they start fishing. We provide quality rods and reels and all the bait you will need; your professional licensed captain will assist even the novice angler in having a memorable experience.
Pacific halibut are a very strange and mysterious bottom fish. They are the largest members of the flounder family averaging 10 to 100 pounds in Cook Inlet, with numerous fish ranging between 100 and 300 pounds caught each season. They look like a flat fish with a white bottomside and a dark brown topside which carries their eyes. They have ravenous appetites which make them eager customers for your bait.
It is a typical catch for every angler to take their two fish limit on our charters. You can release any size fish you desire, and actually the "chicken halibut" (10-30 lbs.) produce some of the best dining experiences. In fact, if you don't care to eat fish but enjoy good chicken, then you are an excellent candidate for these mouth-watering fillets. A fresh halibut dinner is tough to beat!
---
FRESHWATER FISHING:
KING SALMON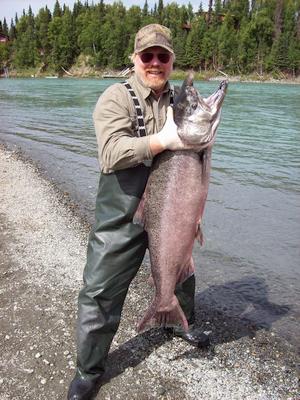 Our freshwater king (chinook) salmon fishing occurs from May to the end of July. Our fishing takes place on the Kenai and Kasilof Rivers. We fish powerboats that run 20 to 24 feet in length on the Kenai River. These boats have 5 to 6 ft. bottoms, comfortable seats, and a lot of room to allow you space and stability to fight that big salmon. We fish driftboats on the Kasilof River because it is too shallow for our powerboats. These non-powered drift boats range in length from 16 to 20 feet, and are powered by oars which makes them a very quiet way to fish your way down the river.
There are basically two methods of presenting your bait to king salmon in our area of Alaska. "Backtrolling" is where you place your bait downstream from your boat and slowly back-down the river allowing the bait to enter the salmon's strike zone. "Drift fishing" is usually conducted with a powerboat and has your guide casting your baits out, and allowing the boat to drift down the river at the currents' speed. Each of these two methods has times and places that allow them to be effective and your professional guide is aware of when, where, and how to employ these fishing methods.
Our freshwater king salmon fishing has basically two types of baits used for success in our area of Alaska. We use the wing-bobber type lure and the diving Flatfish type plug that imitates a baitfish. A device known as a Jet-Planer is used much of the time to aid your bait in being near the rivers' bottom. Lead weight is employed especially when drift fishing to keep your bait near bottom. We provide quality 8 to 9 foot graphite rods and reels that will handle your trophy salmon.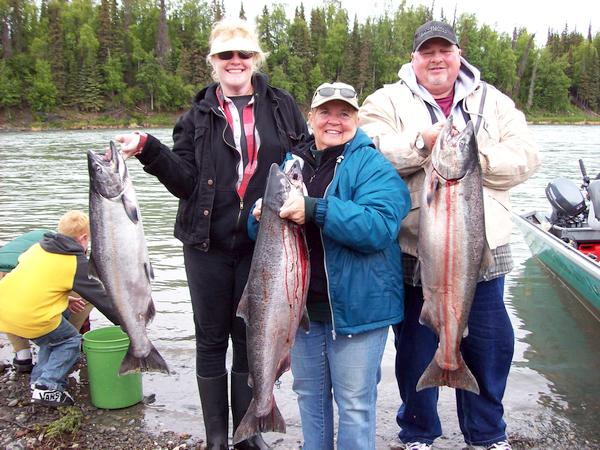 It is important to listen to your guide's instructions when you embark on your fishing trip. Probably the most important thing to remember is to let your salmon take the bait! Regardless of what method you are using on our king salmon charters: allow your fishing rod to bend over and ask your guide if you should set the hook.
We have some of the largest king salmon in the world! The Kenai River produced the world record of 97 lbs. 4 ozs. on May 17, 1985. You can expect your king salmon to average 25-60 lbs. on the Kenai River, and 15-40 lbs. on the Kasilof River. We take many salmon over 60 pounds each season and do expect a new world record any year.
These giant salmon are more difficult to catch than other salmon species because of their lower numbers and their size. But the challenge is well worth your efforts when you feel the power of that giant silver torpedo that wants to tear up your tackle on its way upriver to its spawning grounds. The "big ones" (over 50 lbs.) sometimes require 20 minutes to a couple hours of battle before you can land them. Whether you catch a 20 pound or an 80 pound king salmon, you will find this salmon a great fishing challenge and excellent eating too!
---
COHO SALMON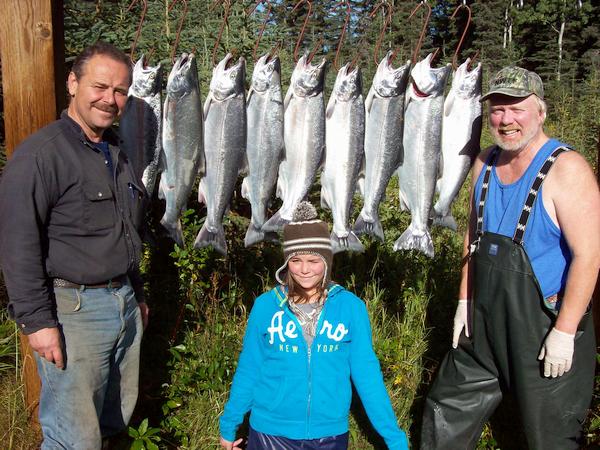 The coho salmon is also known as the silver salmon, they range in size from 8 to 16 pounds in Alaska. We have two runs of them in our area: one in August and one in September. The coho is known for its acrobatic nature and sizzling runs. Pound for pound it is the hardest fighting salmon on sport tackle. They are very aggressive even in freshwater rivers after they have ceased actively feeding.
We use basically two methods for catching this game fish in freshwater: one method is to anchor our boat in the river and wait for the schools to come to us and we employ our other method by simply casting spoons and spinners to them. When we are anchored we may use wing-bobbers, corkies, salmon eggs and diving plugs for bait behind our boat. Again, you need to be patient when you get taps on your line. These salmon bite like little trout and you will miss them if you don't let them take the bait. When we use spoons and spinners you set the hook when you feel the fish. The coho salmon can keep you real busy when a school moves into your area. Besides being a great fighting salmon they are great smoked, canned, grilled, and deep fried, for a dining experience you soon won't forget.
SOCKEYE SALMON
Our freshwater sockeye (also known as "reds") salmon fishing takes place during the latter halves of June and July. The sockeye averages 6 to 10 pounds and has the brightest red-colored flesh of any of the Pacific salmon. They are my favorite canned salmon. They are great fighters on sport tackle and one of the more abundant salmon species in Alaska. Escapements of over one million sockeyes into the Kenai River are not unusual occurrences. Sockeyes tend not to feed in freshwater but the shear numbers of concentrated fish can make taking your limit an easy task.
PINK SALMON
The pink (humpback) salmon is the smallest of the Pacific salmon and the most abundant salmon. They range in size from 4 to 10 lbs. in the Kenai River and return every two years. They are the easiest salmon to catch and just love to attack your lure all day long. We usually use 6 1/2 ft. spinning rods with 14 to 17 lb. test line. They are very aggressive towards spoons and spinners; taking your six fish limit can be a very easy task during the first 3 weeks of August. We fish for the fresh fish that recently came in on our high tides for those who wish to eat them. They are a very good salmon for eating if they are in saltwater or have just arrived into freshwater from the ocean. Action can be so furious that having everyone on your boat hooked-up is commonplace. Fishermen who are not accustomed to practically hooking a salmon on every cast find this fishing action an exciting experience.
RAINBOW & DOLLY VARDEN TROUT
We offer remote trophy fishing for rainbow and Dolly Varden trout on the upper Kenai River from June 11th into October. You will find the upper Kenai River to be abundant with beautiful scenery and large trout. We use whitewater driftboats and powerboats for this fishery. Trout that range from 2 to 8 pounds are quite common, and most of our water is considered a catch-and-release fishery. It is not uncommon to catch a trout that ranges between 8 to 20 pounds on this great river. If you are looking for a peaceful day of great trout fishing on the beautiful turquoise waters of the Kenai River, then put this trip into your fishing itinerary.
---
FISHING CALENDAR
*KING (Chinook) Salmon
May – July
*SILVER (Coho) Salmon
August – September
*SOCKEYE (Red) Salmon
June – July
*PINK (Humpback) Salmon
August (on even years)
*RAINBOW & DOLLY VARDEN Trout
June into September
*PACIFIC Halibut
May – September
BAG LIMITS
HALIBUT:  
Two per day
KING SALMON:
One per day (Five fish seasonal limit; two of which can come from Kenai River)
COHO & SOCKEYE SALMON:
2-6 per day (depending on location)
PINK SALMON:
Six per day